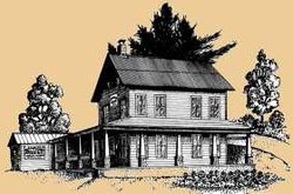 6696 State Route 8
Brant Lake, NY 12815
HOURS:
June: Saturday 1-4pm
July & August: Tuesday, Thursday & Saturday 1-4 pm.
Admission is FREE.
For special tours contact the Museum at (518) 494-7286 email: horiconmuseum@yahoo.com.
The Horicon Museum affords the visitor a look into the past: the early settlers, their homes, churches, industries, boarding houses and special occasions. The displays in the nine room restored 19th century farmhouse show a glimpse into the lives of those living in an earlier time. There are many photographs of the spectacular and beautiful scenery in this Adirondack region, as well as artifacts from early homes and businesses in the area.
POP-UP TOMATO PLANT SALE - SATURDAY,  MAY 29, 2021 IN FRONT OF MOUNTAIN HARDWARE IN CHESTETOWN FROM 9AM TO 1PM.  PROCEEDS TO BE EVENLY DIVIDED BETWEEN THE HORICON HISTORICAL SOCIETY AND THE AMERICAN LEGION.
1881 Annex Preview Opening & Shindig
1881 Museum in Adirondack - Recent News Articles
1881 Museum in Adirondack - How to Help