The library began as a home-based reading center to which Mrs. Emily Heintzelman gave many books. The land for the original building was deeded to the trustees of the Heintzelman Library by Laura A. and Scott Barton. In 1907 the stone and wood building which first housed the Horicon Free Public Library was completed and inscribed as the Heintzelman Library. Twenty-five years later, the town of Horicon assumed responsibility and to the present year, the library has been tax supported. In 2001, the Town built a Community Center, including a larger library. This enabled us to meet state standards, and to accommodate the increasing needs of the community. The library is a member of the Southern Adirondack Library System.
Please take our Survey to help us further develop the Library.
Visit our facebook page at www.facebook.com/horiconfreepubliclibrary/
Or visit our website at brldev.sals.edu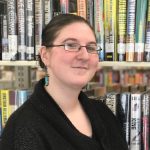 Call library at 518-494-4189 to request materials
Contact Information:
Horicon Free Library
6604 State Route 8
PO Box 185
Brant Lake, NY 12815
Phone: (518) 494-4189 Fax: (518) 494-3852
Effective January 1, 2022 the Board of Trustees meetings will be held on the 3rd Monday of each month at 9:30AM.
Membership:
All residents of the area are entitled to be borrowers. Proof of residency is required. Non-residents who do not have valid SALS/MVLS cards may obtain cards by presenting a current valid library card from almost any other public library along with a current valid ID with name and address.
Loan Policy:
Print items and books on CDs have a loan period of two weeks unless otherwise stated. The loan period for DVDs is seven days, with a limit of three per visit. Most items are renewable. When renewing materials it is preferred that you bring them to the library for renewal. If you renew by phone, please have your library card and the items for renewal with you at the phone. A book drop is available for off-hour returns.
Reserves and Interlibrary Loans:
Materials owned by the Horicon Free Library that are not currently available may be reserved at the circulation desk. If the library does not own the item you want, we will try to locate it for you and order it through Interlibrary Loan. You will be notified when your requested items are received.
Memorials and Gifts:
Memorial donations are welcome.
Computer Services:
Computer-based library catalog available in the library or online at http://catalog.sals.edu
Free Internet Access
WiFi available
Five public computers available for patron use
Research databases at http://research.sals.edu/brl
Database: Ancestry.com available

Other Services:
Fiction and non-fiction books
Large type books
Books on CD
Adirondack history collection
Local history
DVDs
Magazines
Photocopy and fax
Fax service
Services from the Southern Adirondack Library System
The Horicon Free Library is a member of the Southern Adirondack Library System ("SALS"). Our membership provides the Horicon Free Library and the people living in the Town of Horicon with many benefits, including the following:
Easy and efficient resource sharing: the Interlibrary Loan service is invaluable.
Access to electronic technologies
Participation in innovative projects and programs
SALS provides forums for sharing ideas, experiences, and information among libraries across a wide geographic area
Horicon Free Public Library Board of Trustees:
Joan Johnson (President)
Joyce Greenidge (Vice President)
Greta Heilman (Treasurer)
Pamela Eastman (Secretary)
Sara Mullins
Friends of the Library
The Friends of Horicon Free Public Library is a group that was formed in 2001 to assist and support our library by providing funds for items not covered by budgets and to provide classes and programs for children and adults in out community. Our programs are always free and open to the public and they are both educational and entertaining, and well planned and organized.
The Friends have a board of directors of 18 and a paid membership of 325. The group meets at 4:00 on the second Thursday of the month in the community room of the town hall.
Barbara Blum, Chairman of the Children's Programs plans a yearly calendar of events that begins in January with a birdhouse making class, February is CREATING SPECIAL VALENTINES FOR SPECIAL PEOPLE, March and April is preparation for our annual Easter Egg Hunt that attracts one hundred or more families, in May the children create concrete garden stepping stones for Mother's Day, and in June there will be Pirates of the Carranza. July through the end of August we host 8 weeks of summer reading programs for children. Bedtime Stories and Treats is for children 4 and under and Adventures in Reading is for children ages 5 and up. Both programs are in the library at 6:30 PM Thursdays.
Throughout the year there will be programs for adults and families. The final event of the year is probably the biggest. Christmas in Brant Lake is a whole community effort to celebrate the holiday season. The families come to the Town Hall where the children can meet Santa and Mrs. Claus, create gifts for their families, frost Christmas cookies, enjoy refreshments, music, and entertainment, and go on a horse and carriage ride. This event is planned by the Friends and made possible by the members of the Friends, the Horicon Fire Department and Ladies Auxiliary, The Crafty Critters, and the Girl and Boy Scouts.
For further information about the Friends please call Sal Joiner at 518-260-0043. To register a child or ask about a children's program please call Barbara Blum at 518-494-3357.
Like many civic groups across the nation, our Friends of the Library group is planning an event to help families during these tough economic times by sponsoring our EVERYTHING FOR CHILDREN RECYCLE DAY This event will be held on the ball field and in the pavilion behind the Horicon Town Hall. For two Saturdays, our committee will be on hand to collect merchandise that people drop off to be recycled. Baby clothes and baby items, children's clothing, shoes, boots, outerwear, toys, sports equipment, books, games, videos, and electronic equipment will all be sorted, sized, categorized and made ready for parents to come and make their selections of free stuff. We are looking for good quality, clean, and neat items. The pick up and drop off dates and the date of the event will be announced one month prior to the recycle day. We hope that you will help us to make this worthy community effort a success by donating items you no longer use.